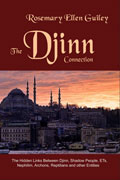 The Djinn Connection: The Hidden Links Between Djinn, Shadow People, ETs, Nephilim, Archons, Reptilians & Other Entities - $18.95

By Rosemary Ellen Guiley
Visionary Living, Inc., 2013, paperback, 232 pgs.
THE GREATEST MASQUERADE OF ALL: THE DJINN!
Could a single entity be responsible for a multitude of our paranormal experiences throughout history?
Drawing upon her decades of extensive research in all facets of the paranormal, Rosemary Ellen Guiley makes a compelling case that our interactions with spirits, extraterrestrials, shadow figures, ancient aliens, demi-gods and human-creature hybrids all involve the mysterious Djinn.
The Djinn are little-known in the West beyond folk tales of genies in lamps and bottles, but they are real and active in our world. They are a race of powerful, masterful shape-shifters who exist in a dimension parallel to ours. Humans have had millennia of intense engagements with the Djinn, who disguise themselves in the forms of many different entities in order to keep themselves and their true motives hidden. Some of their motives are not in our best interests.
The Djinn are not the only beings interacting with humans, but their giant shadow falls across every part of our paranormal and entity contact experiences, including bedroom invasions, alien abductions, and genetics manipulators from other worlds.
The Djinn are significant force in the destiny of human beings. In The Djinn Connection, Guiley explains what we need to know – and how we should respond.